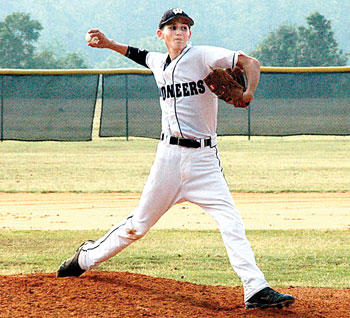 Tar Heel Leagues
Any rule not specifically covered in this document will be governed by the
National Federation of State High School Association.
10 & Under - Softball
1. Playing Field Dimensions
• Bases: 60 ft.
• Pitchers Plate: 35 ft
• Circle at Pitchers Plate: 8' Radius
2. Players may steal when the ball reaches home plate with player pitching.
3. Batter may not advance to first base on a dropped third strike. The ball is not dead - Base runners MAY advance at their own risk.
4. Teams may play ten (10) fielders defensively with four outfielders in the same radius. A team has the option of choosing to turn in a line up card to the home plate official with nine (9) to thirteen (13) players in the batting order with all players listed. As long as a player is on the line up card then the coach can play that person on defense at any time unless it is in violation of the pitching rules. If a player is a substitute then she is governed by the rule book that applies. If a player is unable to complete her turn at bat except for a noticeable injury or sickness then an out will be called in the continuous lineup. This will solely be the decision of the officiating crew.
5. Run rule - 12 runs after 3 innings, 10 runs after 4 innings. Losing teams must have equal number at bats.
6. Batter cannot be walked in this program.
7. The pitcher player will pitch to the batter until the batter becomes a runner, is called out on strikes, is put out by a play or receives ball four as called by the plate official. Upon the batter receiving ball four, offensive coach will enter to pitch to the batter. If the batter has a four ball count and no strikes then the coach will have three pitches only, if she has four balls and one strike count then the coach will have two pitches only, and if the batter has four balls and two strikes then the coach will have one pitch only. If after the above has been completed and the batter is still at home plate she shall be out.
8. Batter may bunt with player pitching but cannot bunt with coach pitching. Any attempted bunt is a strike on the batter.
9. Base runners are not allowed to steal home at any time.
10. Base runners are not allowed to steal with coach pitching. May steal per NFHS rules with 10U girl pitching.
11. Base runners are allowed to only steal / advance one base at a time per pitch with player pitching. Base runners may advance as many bases as possible on a base hit.
12. On the third strike or last pitch the batter may remain at bat as long as the ball is ruled a foul.
13. A player missing a base or leaving a base too soon will result in a delayed dead ball call by the official and will be ruled on when all playing action is over. There are no appeals from the defense in the 10U program.
14. In the 10U program the pitching rules will follow the NFHS Softball rule book. With the coach pitching there will be no illegal pitch called.
15. This program will use a eleven inch Softball.
16. Infield fly rule is in effect.
17. No steel cleats allowed.
18. A player hit by a pitch will be awarded 1st base when the player is pitching on the defensive team, but is not awarded 1st when coach is pitching.

General Rules
1. Batting helmets with face guards are required for all batters.
2. The pitcher and catcher may have a courtesy runner at any time. The courtesy runner may be any player not in active line-up. If team has 9 or less players the courtesy runner will be the player making the last out and it can only be for the catcher with 2 outs. The catcher must be the catcher of record.
3. Mandatory play rule for ALL ages. Each player listed on lineup cardmust have at least 1 At-Bat and 3 Defensive Outs in the field. Penalty: Forfeit, unless game is shortened by the run rule.
4. At all levels of play, catcher must wear full head protector. Detachable throat protector is optional. (Baseball & Softball)
5. Head-first slide is allowed in all ages.
6. Home team will be determined by coin flip prior to game.
7. Conversations/appeals/concerns can be brought to the umpires by the head coach only.